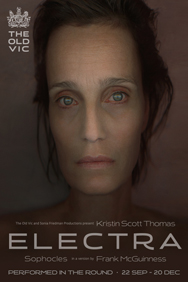 Electra
Old Vic Theatre
Price from AU$ 145.60
The story about Electra is brought back to live by director Ian Rickson and Kristin Scott Thomas. Sophocles' tragedy about Electra and Orestes' revenge on their father's murderers now come to Old Vic Theatre in an adaptation by Frank McGuinness.

Electra is the princess of Argos, daughter of King Agamemnon and Queen Clytemnestra. A few years after the Trojan War, Agamemnon has been murdered by Clytemnestra. Electra becomes consumed with her quest to avenge her father's death, and plots to kill her mother with her brother Orestes' help.

Don't miss out on this classic drama in a new modern adaptation!