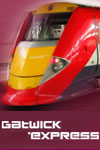 Gatwick Express
Price from AU$ 34.70
Jump on the Gatwick Express and get into London fast and easy. You can choose to get a return or one-way ticket between Gatwick Airport and Victoria Station in London with the Gatwick Express. The journey takes approx. 35 min. It's easy and comfortable!

From Victoria Station in London, you can easily take the tube, a bus or grab a cab to your end-destination, such as Piccadilly Circus, Trafalgar Square, Oxford Circus, Covent Garden, Russel Square or Paddington.

Highlights:
- Get your e-tickets directly into your mailbox within 2-3 days
- Skip the line by the ticket machine at the station
- The tickets can be used on any given day within a month
- Children under 5 years old travel for free

How do I book my tickets for the Gatwick Express?
When you book your tickets pick the 'valid from' date as the date you will use the train tickets. If you book return tickets, the return journey back to Gatwick Airport has to be used within 28 days from the date you have chosen.

You cannot book for today, as all tickets are issued manually, so please allow 2-3 days for your tickets to arrive via email.

How do I get my tickets?
Shortly after your booking is complete, you will receive a confirmation by email. Your train tickets will be sent to you afterwards.

All train tickets are issued manually, therefor we cannot promise you will receive the tickets the same day as you order, it might take a few days. However, we promise you will receive your tickets well before you leave, and if you book close to the departure date, you will receive your tickets as soon as possible.

Are there children's tickets for the Gatwick Express?
Yes, you can purchase children's tickets for the Gatwick Express. Children's tickets are available for children between age 5-15. Children under age 5 travel for free, when accompanied by a paying adult. (Max. 4 children can travel free each adult).

Important information:
- Please note: It is your responsibility to check the train timetable before your journey, especially the train times to and from the airport for flights that arrive or depart very early in the morning or late at night, or in case there is a limited service due to maintenance work, etc.
- We are not able to refund (either partly or in full) for tickets that cannot be used if the train timetable does not fit in with your scheduled flight arrival or departure time. If trains are cancelled due to maintenance work etc. then there will always be a replacement bus service offered.
- On bank holidays the Gatwick Express will not run as frequently as normal, and on December 25 the Gatwick Express doesn't run.
- Please note: On October 15th the Gatwick Express doesn't run.
- Please note: O n September 24th (until 6:30am) , October 8th (until 6:30am) and October 29th (until 6:30am) train services will be replaced by direct non-stop bus replacement services.
- If you like you can book tickets for an alternative Gatwick Airport Train here .


Maintenance work until January 2018:
Extensive maintenance and line update works are scheduled from now until at least January 2018. Departure suspensions and reduction of services per hour might occure, mostly during nights and sometime weekends. If a service is not operating for longer periods, a replacement bus service will be in place. Please account for extra time mostly on your way to the airport.

Staff are available at the stations to help you, so please ask them if you have any questions.