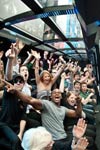 The RIDE
Price from AU$ 79.40
The RIDE is the hottest way to see New York. The RIDE is a combination of sightseeing, show & entertainment. The RIDE is truly a cool and fantastic experience.

The RIDE is a unique experience, equal parts theatrical show and immersive tour. See spectacular performances and classic New York City sights from the comfort of our technologically-advanced moving theater motorcoach. Experience the best of New York City.

The RIDE uses New York City and its renowned landmarks as the backdrop for a theatrical event that blurs the boundary between tour and performance. The city becomes a stage, and soon you can't tell where the street ends and the show begins!

The RIDE gives you a front-row seat to the streets of New York City in a multi-million dollar motor coach that comes equipped with state-of-the-art audio/visual technology, including 40 plasma screen TVs and over 3000 LED lights.

While navigating a 4.2-mile midtown path, our performers and native New Yorkers alike become performers for The RIDE, showing guests an entirely new side of New York City they can't see anywhere else.

Whether you're new to the city or a long-time native, you'll find something to enjoy.

Important information:
- Shortly after your booking is complete, you will receive an voucher/e-ticket by mail. Please print out your ticket and bring it with you to New York.
- The RIDE normally runs every 2nd hour between 12.00pm or 02.00pm and 07.00pm or 09.00pm. But in off-peak season, the RIDE may run fewer times.
- This tour is in English.
- The RIDE begins at the corner of 42nd and 8th Ave in front of Chevy's Restaurant, and ends at the same location.
- The RIDE takes 75 minutes.
- The RIDE is for children ages 6 and up, however please be advised that certain content may be inappropriate
- Food and drink are prohibited on The RIDE.