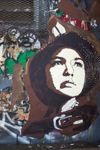 The Bronx Renaissance Walking Tour
Price from AU$ 50.50
Join us for a fun and interesting tour of the South Bronx cultural corridor known for its art, culture and vibrant history. On this tour, we'll explore the South Bronx from its early wealthy roots and immigrant communities, to the neighborhood's decline, to the cultural and social revival that has now made the Bronx one of the most popular destinations in New York City.

Highlights:
- Enjoy a 3-hour guided tour of the Bronx
- Learn why the Bronx is one of the hottest places in NYC
- Explore a different side of New York

The tour is available in English and Spanish.
How do I get my tickets?
Shortly after your booking is complete your e-ticket will be send directly to your email, just print it out and bring it on your tour.
Where does the tour begin?
The tour starts in front of Grand Central Station. We'll meet by the entrance that is near the intersection of Park Avenue and East 42nd Street. This entrance is directly across the street from the Pershing Square Café. Please be there 15 minutes before the tour starts.
How long does the tour last?
The tour lasts 3 hours.
Are there children's tickets?
Yes, children's tickets are available for children between 6-12 years old.