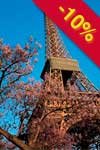 Sightseeing, Cruise & Eiffel Tower
Price from AU$ 101.90
This tour is a 3-part excursion, which gives you the chance to discover Paris, its history and wonderful architecture from a luxury coach, a cruise down the Seine and from The Eiffel Tower.

The best part is the tour is that you get to skip the line to the Eiffel Tower!

Highlights:
- Experience the best of Paris
- Enjoy a 5-hour sightseeing tour
- See all the major sights
- Skip the line to the Eiffel Tower

Save 10%
Special Christmas offer: book and visit between now and the 23th of December 2017 and you will save 10%.

Experience Paris from the Ground, Water and Air
The first part of the tour is a bus tour with an audio guide (available in 13 languages incl. English, Spanish, French, German, Italian, Dutch and Portuguese), so you can hear the history of Paris and admire its main squares, bridges, main streets and buildings, such as: the Opera square, Concorde, Champs-Elysees, Arc de Triomphe, Trocadero square, Invalides, Pont-Neuf, Bastille square and of course the Eiffel Tower.

Take a Cruise on the Seine
The bus part of this sightseeing tour ends at the foot of The Eiffel Tower. From here you will be welcomed onboard on one of the three trimarans belonging to the Bateaux Parisiens for the second part of the tour: A 1-hour cruise down the Seine. Entirely glass fitted, these boats are perfectly designed to admire the beautiful architecture of the city. This part of the tour is also guided by audio headsets available in 13 languages.

Skip the Line to the Eiffel Tower
The cruise sightseeing ends at the foot of The Eiffel Tower, where you will avoid the long lines and go directly to the elevator for a ride up to the 2nd floor of the Eiffel Tower, which gives you a wonderful panoramic view of Paris, which is the final part of the tour. If you wish, you can buy tickets to the 3rd floor of The Eiffel Tower there.

Would you like to end your tour with a lunch in the Eiffel Tower, then you might like our Paris Essential Tour which includes a lovely 2-course lunch at Restaurant 58 Tour Eiffel.

How do I get my tickets?
Shortly after your booking is complete your e-ticket will be sent directly to your email, just print it out and bring it on your tour.
Where does the tour begin?
The tour starts at the PARISCityVISION's office. The address will be on your e-ticket.

Please be there 30 minutes before the tour starts.

Where does the tour end?
The tour ends at the Eiffel Tower.

How long does the tour last?
The tour lasts 5 hours plus however long you want to spend at the Eiffel Tower.