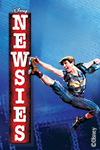 Newsies
Nederlander Theatre
Price from AU$ 163.20
Don´t miss out on tickets for Newsies on Broadway in New York. The new Disney musical that has already taken New York´s Broadway by storm.
Arriving directly from its pre-Broadway run at the Paper Mill Playhouse, where it became a critically acclaimed smash hit, NEWSIES makes its way to Broadway where it will headline at the Nederlander Theatre for a special run limited to 101 performances-ONLY.
Inspired by the real life "Newsboy Strike of 1899" NEWSIS is based on the story of Jack Kelly (Jeremy Jordan), and is gang of teenage newspaper boys, who bravely faced up to the publishing tycoons Joseph Pulitzer and William Randolph Hearst, in a battle for justice and fair wages.
Apart for making exciting theatre, the themes provide a great educational tool to reach out to today´s younger generation, that is probably unaware of the musical´s rich historical background. Your group is certain to be moved by this story of teenage youths courageously taking on the impossible.

Note: When booking tickets for New York musicals you will always be allocated the best available seats at the time of booking. We have no influence over the exact row and seat number appointed to you, as it is solely the theatre that can assign a seat from amongst the best available. Within 36 hours of you having received your first booking confirmation, you will receive an additional one showing your exact seats! These cannot be changed or altered in any way as they were the best available seats at the time of your booking!