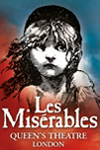 Les Miserables - London
Queen's Theatre
Price from AU$ 38.00
Cameron Mackintosh's legendary production of Boublil and Schönberg's Les Misérables is a worldwide hit. Seen by more than 70 million people in 43 countries and in 22 languages around the world, it is still breaking box-office records everywhere.

Highlights:
- Enjoy the world-famous musical
- Choose your own seats
- Experience the musical classic with the iconic music
- Get your hands on the popular tickets

What is Les Misérables about?
The story is set against the backdrop of 19th century France. Les Misérables tells an enthralling tale of broken dreams and unrequited love, passion, sacrifice and redemption – a timeless testament to the survival of the human spirit.

Ex-convict Jean Valjean is hunted for decades by the ruthless policeman Javert after he breaks parole. When Valjean agrees to care for factory worker Fantine's young daughter, Cosette, their lives change forever.

Featuring the songs 'I Dreamed A Dream', 'Bring Him Home', 'One Day More' and 'On My Own', Les Misérables is the show of shows!

Make sure you get to experience the magic of Le Miserables, book your tickets online today!

How do I get my tickets?
Shortly after your booking is complete, you will receive an e-ticket by email. Just print out your ticket and bring it with you to the theater.

Who is the musical suitable for?
Les Misérables is a musical for people of all ages, young and adults alike. Children must be 3 years and older to enjoy the show. However, Les Misérables is recommended for children from age 7 and up, but children over 3 years are permitted with a ticket. If they become restless then the theatre may ask you to leave the premises.

How long is the musical?
Les Misérables lasts approx. 3 hours incl. intermission.

Who's the team behind?
Les Misérables is produced by Cameron Mackintosh. Claude-Michel Schönberg is the book co-writer and the composer of both Les Misérables and Miss Saigon, all in collaboration with Alain Boublil.
Les Miserables Reviews
"For sheer musical theatre spectacle and an emotional roller coaster, it quite rightly remains the best show in town"
The Stage
---