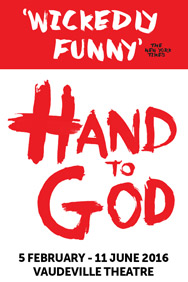 Hand To God
Vaudeville Theatre
Price from AU$ 45.00
One dead father, one messed up family, one girl who just wants to help, one school bully who always gets his own way, one man of the church offering comfort, and one hand puppet who is completely out of control – He's shocking, dangerous and taking no prisoners.

Highlights:
- Secure your tickets to Hand To God
- Choose your own seats
- Experience "Sesame Street meets The Exorcists"

Hand To God
All hell is breaking out at the Vaudeville Theatre as this hilarious and provocative new comedy lands directly from Broadway, where the New York Times hailed it "Wicked Funny" and the New Yorker called it "Sesame Street meets The Exorcists."

Book now for the most exciting new play to come out of America this year starring Janie Dee, Neil Pearson, Harry Melling, Jemima Rooper and Kevin Mains.

A left hand can certainly be a dangerous thing.

How do I get my tickets?
Shortly after your booking is complete, you will receive an e-ticket by email. Please print out your ticket and bring it with you to the theater.
Hand To God Reviews
"Theatre for the YouTube generation Really - freakish, silly … it's getting my thumbs up It keeps gathering in lunatic intensity until you surrender to its madcap charms"
Daily Telegraph
---
"Full of insight and laughter … socks it to the audience Puppet sex… once seen….It's never forgotten The crowd went wild"
The Times
---
"Terrific cast. Hand To God includes the most raunchy, not to mention protracted, puppet sex scene the West End has ever witnessed."
Evening Standard
---
"Amazing cast, filthy humour and a possessed puppet. What's not to love? Highly recommended."
The Sun
---
"Hand To God finds great hope in new writing… the West End has been looking for something new to love – and we might have just found it."
Gay Times
---
"The funniest and filthiest puppet glove punch-up I've ever seen Avenue Q meet Book of Mormon, with elements of The Exorcist"
WhatsOnStage.com
---