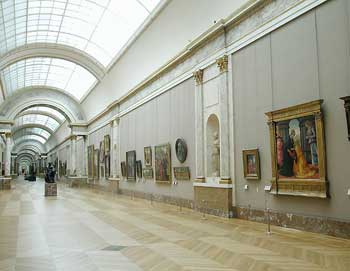 Louvre on your own
Enjoy Louvre Museum in Paris at your own pace and explore the museum with an audio guide. Here you can buy your entrance ticket to the largest museum in the world, which gives you the opportunity to skip the regular, and very long, entrance line.

Highlights:
- Skip the line to the Louvre Museum
- Explore the museum at your own pace
- Learn more about the masterpieces with an audio guide
- Incl. a free map of Louvre

Explore the Louvre Museum at Your Own Pace
The visit to Louvre starts at our agent in Rue de Rivoli. From here you will walk to Louvre through Carrousel du Louvre and Tuileries Gardens.

Once you arrive at the Louvre Museum, you can walk around and enjoy the museum's many masterpieces such as The Venus de Milo, the Coronation of Napoleon I and of course Leonardo de Vinci's Mona Lisa.

The audio guide is available in English, French, Spanish, Italian, German, Japanese and Portuguese.

If you like to see the Louvre Museum with a professional guide, then you can book our guided tour of Louvre here.

How do I get my tickets?
Shortly after your booking is complete your e-ticket will be send directly to your email, just print it out and bring it with you to our agent PARISCityVISION to collect your audio guide.
How does it work?
On the day of your visit, go to our agent PARISCityVISIONs office to collect your audio guide. The address will be on your e-ticket. You will need to pay a deposit of EURO 32,- per audio guide, which you'll get back when you return the audio guide.

How long does it take from PARISCityVISION to the Louvre?
There is an approx. 15 minute walk from the PARISCityVISION office to the Louvre Museum through the Tuileries gardens.

How long is the tour?
The audio guided tour of the Louvre Museum lasts between 3 and 3½ hour.

What do I do with my audio guide after my tour?
All audio guides must be returned after a maximum of 3½ hour to at our agent PARISCityVISION.