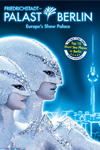 THE WYLD on Friedrichstadt-Palast
Price from £ 36
Friedrichstadt-Palast in Berlin is not only a great cabaret; It is glamour, music and dance in one amazing revue. Book ticket to THE WYLD - Out of this world on Friedrichstadt-Palast in Berlin here!

Friedrichstadt-Palast has an eventful history dated back to 1919. Friedrichstadt-Palast is known for its unique program and theatre size. Here, Berlin's great revue tradition lives on, today bringing viewers state-of-the-art shows.

From Oct. 2014 until 2015 THE WYLD - Out of this world is the current show on Friedrichstadt-Palast!
See Seating Chart of Friedrichstadt-Palast HERE!


THE WYLD - Out of this world, Friedrichstadt-Palast new show is ultra-modern, bizarre and futuristic.
On the biggest theatre stage in the world, Berlin's glittering new celestial phenomenon combines exceptional figures and talents in extraordinary images. With more than 100 artists and a production budget of more than ten million euros, THE WYLD is the most elaborate show and cabaret outside of Las Vegas.

Get your best space suit out of the wardrobe and fly with us through this truly cosmic love story.
THE WYLD
is ethereally beautiful and out of this world!
IMPORTANT INFORMATION:
- See Seating Chart of Friedrichstadt-Palast
HERE!
- Friedrichstadt-Palast is very popular, and can often be sold out Friday and Saturday months ahead. So the sooner you reserve the better the chances are you can get tickets. If you can visit Friedrichstadt-Palast other days than Fridays and Saturdays you might consider this to better your chances of getting tickets!
- Friedrichstadt-Palast shows are on at 7:30PM almost every Tue. To Sun. and at 3:30PM for some Sat. and Sun. as well.