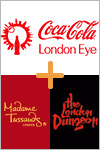 London Silver Package
Price from £ 59
Save 10% on London Eye, Madame Tussauds & London Dungeon with our super saver London Combo Silver Package! Experience three of London's highlights and save money.

What's included in the London Combo Silver Package?
- Save 10% on London Eye, Madame Tussauds & London Dungeon
- Open tickets, valid 1 month from the date you choose for both London Eye and Madame Tussauds
- E-tickets sent directly to your inbox
- A 30 minute ride in London Eye
- Entrance to a 4D cinema experience at London Eye
- The Marvel Super Heroes 4D exhibit and SCREAM! at Madame Tussauds
- 360 degree sets with gripping storytelling at London Dungeon
- Two amazing underground rides at London Dungeon

Enjoy the view from London Eye
By the Thames, just across from Big Ben, lies one of London's most famous landmarks, the Ferris wheel London Eye. From here you get a whole new view over the city. A full turn at the famous Ferris wheel in one of the 32 enclosed capsules takes around 30 min., and at the highest point you are 135 meters above sea level.

Hang out with celebrities at Madame Tussauds
A trip to the enchanting world of Madame Tussauds is a must when visiting London. Meet the British royal family, including Queen Elizabeth, Prince William and Dutchess Kate, hang out with the Beckhams, test your sports skill against some of your favorite athletes or become a super hero recruiter.

Get a good scare at the London Dungeon
The London Dungeon is one of the scariest and most shocking experiences London has to offer. Take a 90-minute journey through 1000 years of London's past. You and your companions walk through the Dungeon, moving from show to show, guided by the professional actors.

You could also try the ultimate London package deal, our London Gold Package, which also includes admission to the Tower of London and saves you 15% compared to buying each ticket individually.

How does it work?
When you book your tickets choose the date you arrive in London as 'Valid from' date, as the tickets you buy here is valid 1 month from the 'Valid from'-date you choose. The choose the number of tickets and click on 'search'. Then you choose the number of adult or children's tickets you need. Hereafter you can search for and book tickets to other attractions or transport.

How do I get my tickets?
Shortly after your booking is complete you will receive your e-tickets to both London Eye, Madame Tussauds and London Dungeon per email. Please print them out and bring them with you to London.

When you collect your tickets at the London Eye, you need to show a valid picture ID together with the credit card used to purchase the tickets. You may be denied access to London Eye if you fail to show valid picture ID and credit card on demand.

Are there children's tickets?
Yes, there are children's tickets available, but since the children's age varies from attraction to attraction our children's prices are combined by the youngest and highest children's age. Children's tickets are available for children from age 4-15. Children between age 0-3 have free admission.

Important information:
- It is recommended that you be at least 13 years old and healthy to visit The Chamber of Horror, and especially the SCREAM! section of Madame Tussauds.
- Please note: During high season, especially fall vacation, spring break and other school and public holidays and midday between 12.00 and 15.00, longer queues may occur.
- London Eye is closed for its annual maintenance between January 6-17.
- Entrance policy at the London Dungeon: Due to high popularity, the London Dungeon has a new entrance policy. From April 1st you will be asked, upon arrival at London Dungeon, to exchange your voucher for a timed ticket for the same day. We guarantee access to London Dungeon either within 45 minutes of arrival or at a date and time that best fits in with your plans. None of our customers have waited the full 45 minutes, but we still offer you the flexibility to plan your day as best suits you.